Air clock (en)
From Conky PitStop
Air Clock

Probably the best new feature of Conky 1.7.2 is that it has built-in Cairo bindings for Lua, which, translated for people who speak English, means you can draw nifty stuff directly to the Conky window.
Here's my first outing with the new feature... It was my goal to recreate the "Air" clock from KDE 4.3, but from within Conky. Now that I'm running Crunchbang with Openbox, I'm sadly lacking in eye-candy and needed to get a little back.
So... what do you think?
And a closeup: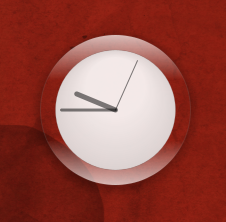 The Lua script to draw this clock is in the archive : tar.gz
Happy Conkying!
Author: londonali1010
Distro: Crunchbang 9.04, Openbox
Conky Version: 1.7.2