Conky widgets (fr)
From Conky PitStop
Conky widgets
J'ai essayé de faire un système où je (ou quelqu'un d'autre) pourrait publier ses widgets Lua et faciliter leur intégration dans Conky. J'ai finalement écrit un script Lua assez simple dans lequel vous pouvez coller les codes des widgets, quelques infos de configuration, et les afficher avec un simple appel depuis Conky. Ainsi, vous n'avez besoin que d'un .conkyrc et un script conky_widgets.lua pour tous vos besoins (en terme de widgets) !
Une capture pour vous mettre en appétit :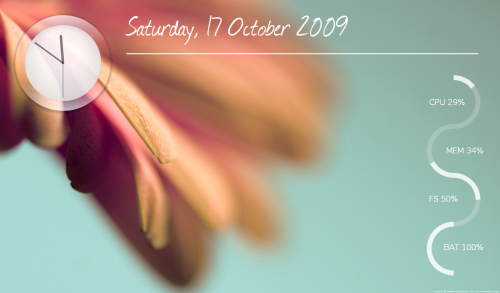 Le script conky_widgets.lua avant qu'il soit rempli :
    --[[
    Conky Widgets by londonali1010 (2009)

    This script is meant to be a "shell" to hold a suite of widgets for use in Conky.

    To configure:
    + Copy the widget's code block (will be framed by --(( WIDGET NAME )) and --(( END WIDGET NAME )), with "[" instead of "(") somewhere between "require 'cairo'" and "function conky_widgets()", ensuring not to paste into another widget's code block
    + To call the widget, add the following just before the last "end" of the entire script:
        cr = cairo_create(cs)
        NAME_OF_FUNCTION(cr, OPTIONS)
        cairo_destroy(cr)
    + Replace OPTIONS with the options for your widget (should be specified in the widget's code block) 

    Call this script in Conky using the following before TEXT (assuming you save this script to ~/scripts/conky_widgets.lua):
        lua_load ~/scripts/conky_widgets.lua
        lua_draw_hook_pre widgets

    Changelog:
    + v1.0 -- Original release (17.10.2009)
    ]]

    require 'cairo'

    function conky_widgets()
        if conky_window == nil then return end
        local cs = cairo_xlib_surface_create(conky_window.display, conky_window.drawable, conky_window.visual, conky_window.width, conky_window.height)
    end
Facile, non?
Et dans l'exemple ci-dessus, j'ai utilisé deux widgets : Horloge "Air" & les anneaux.
Le fichier conky_widgets.lua complété pour la capture ci-dessus est ici.
Widgets disponibles dans l'archive .tar.gz
Horloge "Air". Une horloge analogique, inspirée de l'horloge "Air" de KDE 4.3. (voir ici)
Anneaux. Une façon circulaire d'afficher vos informations systèmes. (voir ici)
Anneaux (sens anti-horaire). Une version anti-horaire des anneaux ci-dessus.
Aiguilles d'hrloge. Un simple widget qui dessine seulement les aiguilles d'une horloge.

Et pour les crédits: la police est Journal, disponible sur dafont.com. Mes excuses, je n'ai pas noté l'auteur du fond d'écran, mais si vous savez d'où il vient, laissez moi une note et je le créditerai.
Happy Conkying!
Auteur: londonali1010
Distro: Crunchbang 9.04
Conky Version: 1.7.2