Interactive Weather v9000 (en)
From Conky PitStop
Interactive Weather v9000
A HUGE Thank you to mrpeachy and falldown for this one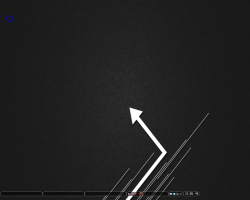 A short while ago conky became
"interactive"
and the combination of mrpeachy's v9000 Weather LUA script along with the interactivity and falldown's graphic skills have created a very interesting interactive weather conky.
It starts off as a little "blue circle type start button" on your screen. And clicking on that opens the first section. The circle turns red and another blue circle on the right. Click on it!
Now you have the next three hours on display. Keep clicking on blue, now squares.
And there you have it, the real deal ... interactive conky weather, check out the YouTube Video (Warning: the colour on YouTube is not right.)
Download the archive, cyber-v9000.tar.gz, and follow the README, it would be a good idea to check out weather in conky (LUA scripts), which explains the v9000 LUA script in full. And if you want support for this interactive project it can be found at the interactive weather thread on the CrunchBang Forums.