Calendar MobileDiesel (en)
From Conky PitStop
Calendar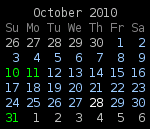 Calendar that highlights the current day and uses remind to highlight any holidays or birthdays.
Also show the last few days of the previous month and first few days of the following month just because I figured out how to do that.
Note: You'll have to use a monospaced font to get the alignment right.
Download: tar.gz