Music CoverART (fr)
From Conky PitStop
Music CoverART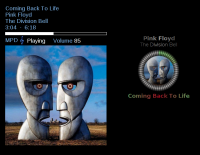 Par: VastOne
NOTE: Ce travail est basé sur 3 sources. Les scripts python de Kaivalagi et les anneaux découpés en secteurs de Wlourf débutés sur les forums ubuntu, ainsi qu'un script de Larryni pour l'effet sur la pochette circulaire.
Tout ce que j'ai fait a été de mixer ces scripts ensemble et de les étendre à d'autres applications.
Ces scripts pour Conky utilisent des scripts Python et Lua, et fonctionnent actuellement pour 18 lecteurs de musique.
Support: L'endroit pour discuter ou demander de l'aide pour ces scripts :
How To - Conky, Music and Cover Art - 2 Methods for 18 Apps
Les lecteurs supportés :
Amarok2
Audacious
Banshee
Clementine
Deadbeef
Decibel Audio Player
Gmusicbrowser
Exaile
Quod Libet
Gogglesmm
Guayadeque
MoC (MoCP)
MPD - et n'importe quel client (ario, sonata, gmpc etc...)
Pogo
Qmmp
Rhythmbox
VLC
Xnoise
Le fichier qui gère tout ça : musictools.tar.gz.
Extrayez tout dans ~/
Tout ce dont vous avez besoin est inclus dans l'archive:
conkys,
Python scripts, bash scripts and
Lua scripts

Edit - 16 octobre 2011 - Tous les scripts bash on été modifiés pour ne copier les pochettes qu'une seule fois ... merci xaos52!!
Edit - 16 octobre 2011 - Nouvelle méthode pour récupérer les pochettes de mpd ... merci wlourf !
Edit - 21 octobre 2011 - Grosse mise à jour de tous les fichiers conkyrc et de tous les templates. Merci à Sector11 pour l'écritude de ces conkyrc.